This help document continues from Step Two: Define Audience. Please read Step Two: Define Audience first as this document will not make sense in isolation.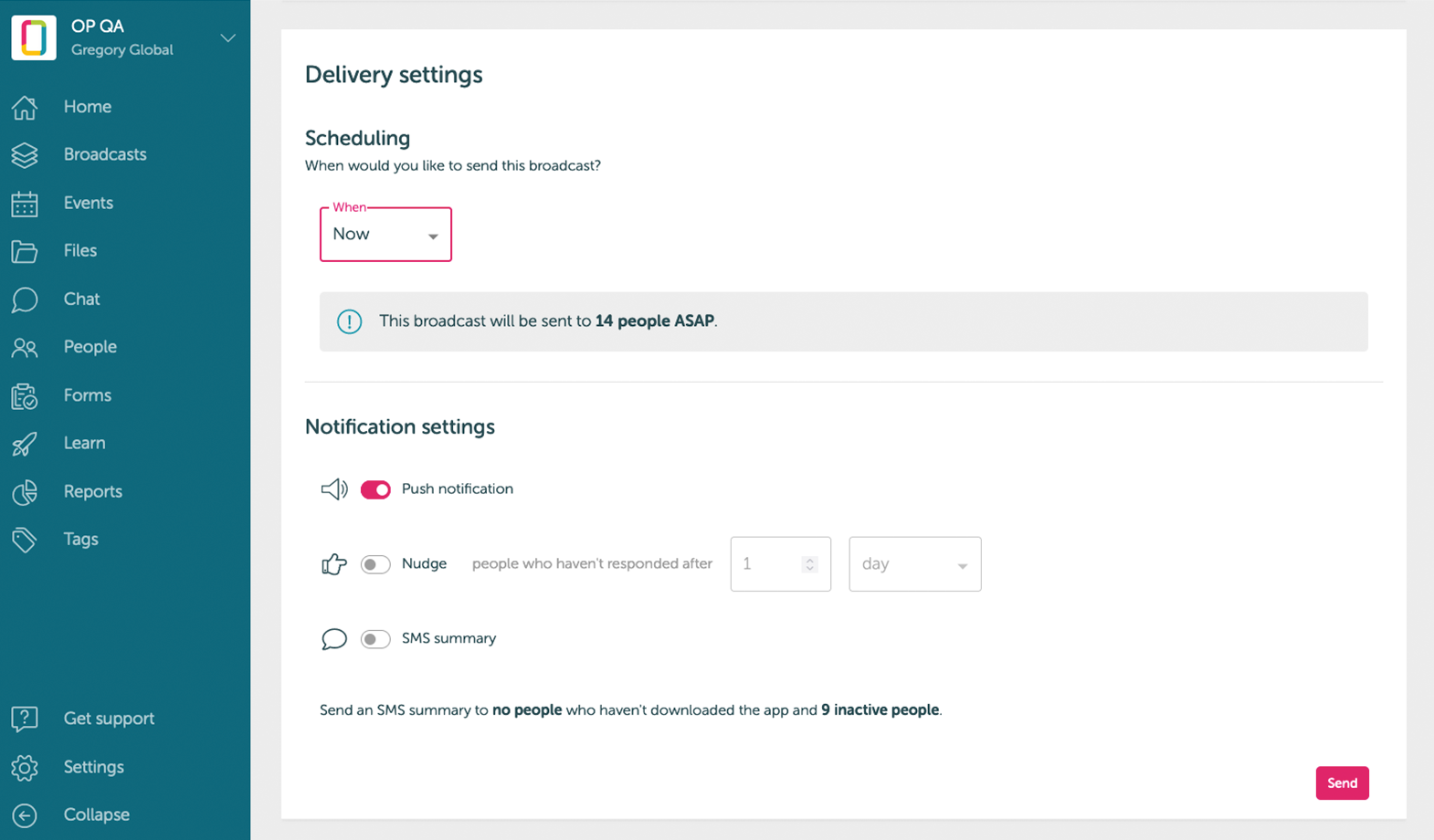 The Delivery Settings step provides the Team Admin or Global User with options on how the Broadcast should be sent.


Scheduling Settings

It is possible to send the Broadcast in a number of different ways by selecting the "When" drop down. The "When" drop down provides the following options:
"Now" is the default option, and will send the Broadcast right away.

"Later" provides the option to set a date and a time in the future for the Broadcast to be sent.
"Recurring" provides the option to select the Broadcast to be sent Daily / Weekly or Monthly on a set day or day(s). It is also possible to set when a recurring Broadcast should start and when it should end.
Notification Settings

"Push Notification" By default Broadcasts are sent with Sounds / Push Notifications on. However, it is possible to send a Broadcast "silently" so that the Team Member is not disturbed. They will view it the next time they log into the Our people app. To turn Sounds/ Push Notifications off, simply click "Turn Off".
"Nudge" provides the sender with the option to send a reminder to the Team member if they have not responded to the Broadcast within a set period of time. Read more about Nudges here.
"SMS Summary" can be used to get a concise message to Team members who have not yet logged into the App. The sender can input a 140 character message that will be sent via SMS. OurPeople automatically calculates who and who has not logged into the app and will target them accordingly. Note that SMS fees apply.


When you are happy with your Broadcast, click Send. Your Broadcast will be sent!
Cancelling Scheduled Broadcasts: If you have decided you want to cancel a scheduled broadcast after you have created it, head to the "Broadcast", click on the "Scheduled" tab, locate the Broadcast you want to cancel and click "Stop Broadcast".