Who can use this feature?

Global Admin

Team Admin
Broadcasts are created by Global Users or Team Admins and are generally sent from the Our People Console. Broadcasts can be sent immediately or scheduled to be sent at a later date and time. To create a Broadcast:
STEP 1: From the Navigation menu, select Broadcasts.


STEP 2: Click the Create button.


The Create Broadcast screen will load. There are three simple steps to creating a Broadcast. The Build tab is the first of these three steps.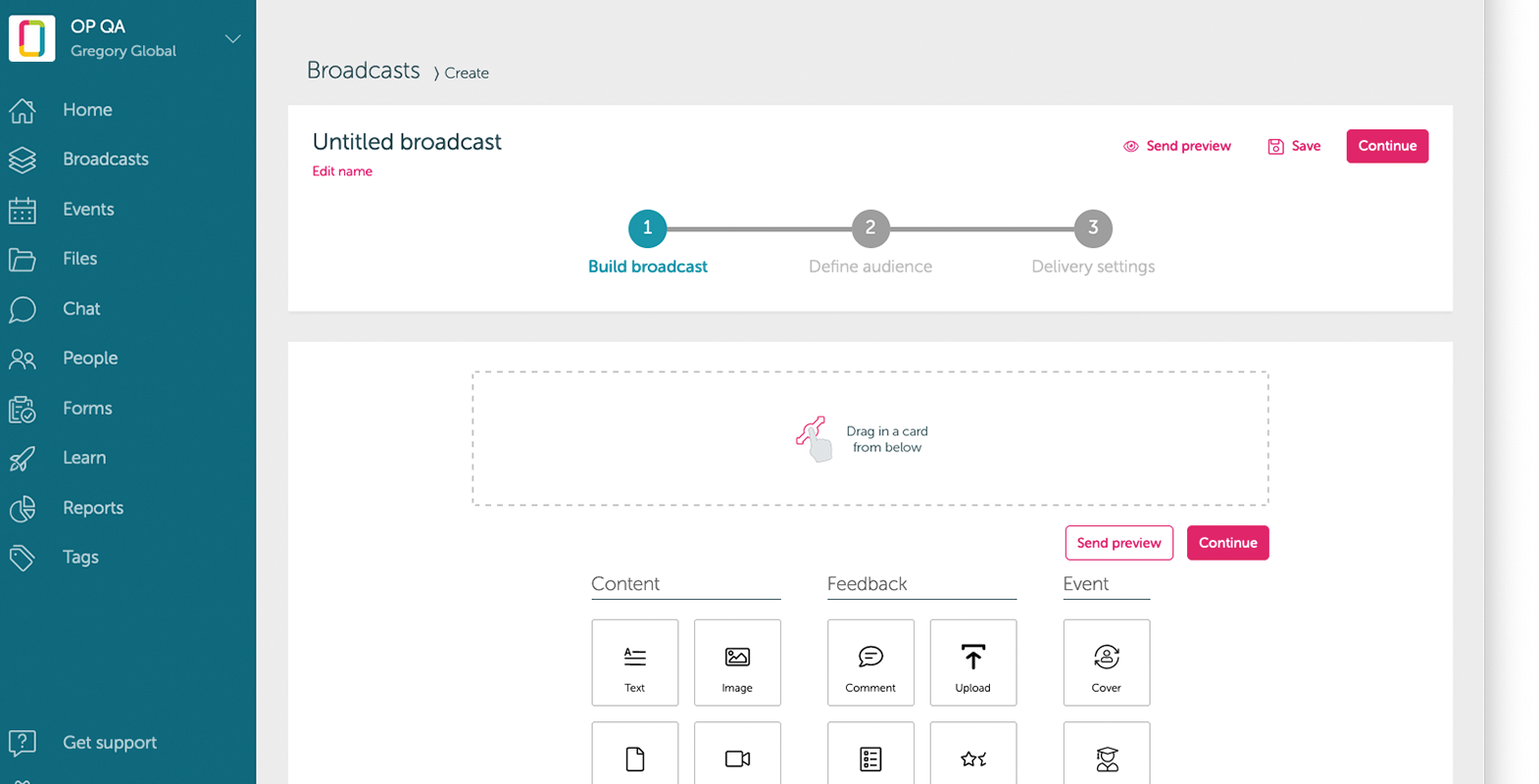 STEP 3: Drag a card up into the dotted line area of the screen.
For this example we are using a Text Card.
Dependent on the type of communication, the Team Admin or Global User has a number of Broadcasts cards at the bottom of the screen. There are a number of different types and further documentation on each can be viewed at the below links:
STEP 4: Type your Broadcast Content.

In the above example, the Team Admin dragged in a Text card. This is limited to 700 characters, so as the message is typed, the number will count down automatically.
Note: The Title of the Broadcast is visible at the top of the screen. In this example, the first line of the message has automatically been added as the Broadcast Title. This can be changed by clicking "Edit Name".
Over to the top right of the card is "Help" which links to the help documentation relevant to that specific card. The "X" will remove the Card from the Build.
STEP 5: You have the option to drag multiple Cards into the build if required to create a Stack. Add more Cards as desired by dragging them into the dotted line area.
Stacks are limited to a maximum of 30 cards.

All cards can be added as a single broadcast but multiple broadcast cards, sent together, will automatically create a "Broadcast Summary" card (pictured above) This is the very first thing the Team Member will see when they receive the Broadcast and will need to be completed before progressing to the next screen.
To see what a broadcast will look like on a phone you can "Send Preview", to find out how click here. Clicking "Save" will save the Broadcast to your "Drafts" folder.
STEP 6: When all content has been added to the Build, click the Continue button. Progress to Step Two: Define Audience.